Koen Dejonghe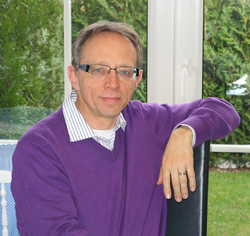 Belgium
website Koen Dejonghe

I write for professionals as well for amateurs for every instrumental combination in different styles. There are tonal melodic pieces, arrangements of famous themes and new contemporary works.
At the age of 8, I took pianolessons and started improvising and wrote short pieces. After grammar school I studied at the Lemmens Institute in Louvain where I received a diploma in Piano and Music Education. Subsequently I earned my Higher Diplome for Chamber Music from the Royal Conservatory in Antwerp as well as First Prizes in Fugue and Composition.
I was awarded first prize in the Belgian Composition Contest for Chamber Music. For my "Second Stringquartet" I received the tri-annual Jef Van Hoof Prize and was also Laureate of the Composition Contest of the Belgian Royal Academy. In the International Contest of 'Song Expo' I won Awards for the best orchestration.
Like many contemporary composers, I seek points of contact with a musical past which can be the starting point for new ideas. From rock and pop for instance, I draw the directness with which this music conveys its emotion. I try to set out to create works with a high degree of expression, where the communication of feelings is not inherent to a particular musical language. There are some 70 compositions, from orchestral work to solo instrument, from chorus to song. I'm a teacher Chamber Music and Composition at the Music Academies in Antwerp and Sint-Niklaas and was 20 years teacher in the Conservatory of Antwerp.
Souterliedekens
Psalm 41