Toon Daems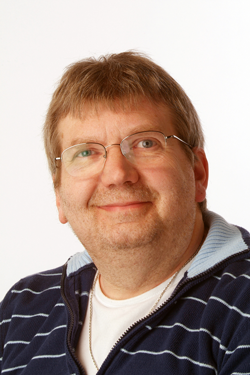 °1952
At young age Toon Daems was gifted with a talent to compose music. Because of circumstances he was not able to follow music education but that didn't prevent him to learn music by thorough tutorial musical knowledge.
He wrote many church songs, adaptations and compositions for various occasions. His first major work, a passion concert, 'Jesus suffering, death and resurrection' for two choirs and Chamber Orchestra was created in 1993 and again in 1994 and carried out with much success in 2011.
In 1999, it was 'De Gouden Stemvork', a children's musical, created by the Lambertijnen, a children's choir from Ekeren o.l.v. Els De Cauwer. Due to the enormous success he wrote a second children's musical "Lachen is gezond." In 2001 he completed liturgical work 'Three Psalms' for soprano, mezzo-soprano and alto, 4-St. choir, organ and Chamber Orchestra. In november 2003, his 'Requiem' was performed by the Antwerp Youth Music Orchestra o.l.v. Ivo Venkov in collaboration with the Flemish Radio Choir, the Middelburgs kamerkoor and Helikon. The Requiem is a work for two Sopranos, two choirs and Symphonic Orchestra.
End of January 2005, a third children's musical entitled: 'De Kerstman is het beu', carried out and in March 2006 the children's musical 'Roger de leeuw gaat met pensioen' was performed.
He won in 2005 the Klara (classica radio broadcast) composition competition for piano trio as a result of 75 years of radio with the theme 'Homage to Mozart'. In the same year, he completed a musical fairy tale for Symphony Orchestra, ballet, soprano and youth choir entitled: 'The girl that danced so merry'.
In 2006, he completed 'Thoughts from an Angel', a work for mezzo-soprano, chorus and Orchestra. This work he wrote in memory of, and inspired by Imke Vanhaecke (° 28/7/2005 - † 7/2/2006), his first grandchild born with a serious heart defect. After six months fighting she became an Angel. In August 2007 he completed a musical fairy tale for narrator and Symphonic Orchestra 'Bjoke de Beer'.
In March 2007, a new children's musical "De Academie voor dierenmanieren" was performed. In 2008, the musical fairy tale 'Kabouter Trommelijn' created by the Academy for music and Word of Schoten. He also wrote music for the hunting horn group 'Botermelck-La Garenne' that already in different countries was performed. A new children's musical titled 'Fenneman Florian Flinterjan' was written in 2009. In 2010, he completed a new work for piano, choir and Symphonic Orchestra: 'In het Licht'. He also recently completed a new children's musical 'Het Geheim van Imkester' that will be performed in 2013. Last year he started with 'Sempre' (choir of six enthusiastic girls) for which he wrote 'Angel songs', 13 English-language songs about the belief in angels and their place in our lives. This work was created in january 2012. Three concerts (with Daems as conductor) are scheduled in 2012. Recently he wrote a book 'Accept': philosophical thoughts on the meaning of existence meant for young people.
Souterliedekens
Psalm 24
Psalm 25