Ludo Geloen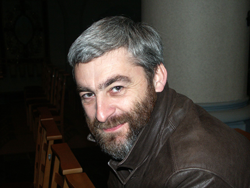 °1962
Belgium
www.westhoek.be/geloen

Ludo Geloen (°1962 Dikkebus) is since 01/09/08 director at the School of Art (Music Department) at Poperinge (earlier, he was teacher of organ music at the conservatories of Ieper, Diksmuide and Poperinge); he is also organist of the O.-L.-V.-Middelareschurch in Ieper . He is the conductor of the O.-L.-V. Middelareschoir.
He is carilloneur in Ieper & Poperinge, a composer and improvisor. He studied at the Royal Conservatory in Gent and carried off prizes over and over again. As an organist and a carilloneur he does concerts in Belgium and abroad (The Netherlands, France, Germany, Italy, Schotland, Norway and Russia).
On his repertoire, he has pieces of all styles, with a preference for modern music. He played already a lot of creations.
In 1997 he founded "The Organ Circle" - Organum Yprense - a non-profit association, which promotes the organ music in the Westhoek (The western part of West Flanders). His own works were performed in Europa, Rusland, Canada.
Since 2001 he is the artistic director of the 'Organ Circle Diksmuide', a non-profit association.
At the Royal Carillon School &qout;Jef Denyn" in Mechelen he obtained the laureate diploma in carillon music.
Since 1998 he and Koen Cosaert are a carillon duo: "Four Fists". He is editor in chief of the cultural e-zine (magazine) "Het HemelBed".
Since 2003 he and Barbara Vandendriessche, founded a duo for soprano and organ; 'Duo Calliope'.
He composes for orchestra, choir, carillon, organ, piano and al kinds of chamberensembles. With his compositions, he won the B.A.F. Sabam prize in 1999 and became laureate in Terneuzen, Brugge, Kampen, Leuven and Utrecht.
He has recorded for radio (Klara, Radio 2 & RTBF 3, Holland ) and television (TV1) and television in New-Zealand.
In 2009, he received the 'Trofee of Culture' given by the City of Ypres. In 2011 he created his own organconcerto 'Linea recta' for strings, organ and percussion by 'Het Kamerorkest' conducted by Ning Kam.
Souterliedekens
Psalm 55
Psalm 56
Psalm 57