Jan Huylebroeck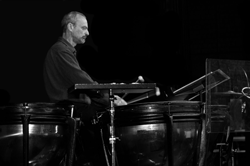 België
www.janhuylebroeck.be
foto © Sophia Dequeker
Jan Huylebroeck, Belgian composer born in 1956, pianist, percussionist-timpanist and arranger-composer, started his professional career in 1975 and became pianist-accompanist at the Music Conservatory at Bruges and timpanist of the orchestra Anima Eterna Brugge, on historical instruments. As a brass player he performs on ophicleide and serpent.
He is a composer-arranger of repute whose work extends to chamber music, music for solo instruments, brassband and symphonic orchestra.
In the free time? Owns a pilot licence private pilot, drives diesel trains on a touristic railway, drives and maintains old historical buses and loves his old-timer Renault Dauphine build in 1963.
Souterliedekens
Psalm 59
Psalm 60
Psalm 61
Psalm 87