Mathieu Polak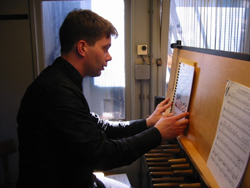 °1972
The Netherlands
In June 2010, Mathieu Daniel Polak obtained his Masters qualification in composition at the Utrecht School of Arts, where he studied with Caroline Ansink and Jeroen D'hoe. Before this, he had studied composition with Jeff Hamburg in Amsterdam. At the Netherlands Carillon School in Amersfoort, he gained his BA diploma in 1999 and completed the second phase in 2000.
In 2011, his carillon compositions were performed at concerts in Osaka and Itami (Japan) and Canberra (Australia). His composition, 'Le Lis des Vallées' was nominated for the Henriëtte Bosmans Prize 2011. Polak's composition, 'Fleurs de Cerisier' for wind quintet was awarded the third prize during the ComaMaastricht competition in 2011. At the 2011 IVME International Composition Competition in Antwerp, he was given the VerDi Prize for his horn composition, 'Puppy Love'.
Polak's publisher is MCN/Donemus Amsterdam, where, for instance, his carillon work, 'Mer de Larmes' (Sea of Tears) was published in 2011. His work is also published by the Netherlands Carillon Center and the Nederlandse Klokkenspel-Vereniging (Dutch Carillon Society). Mathieu Daniel Polak is carillonneur at the Rotterdam Erasmus University and in Bunschoten-Spakenburg. As part of his task as teacher at the Netherlands Carillon Center, he regularly performs on the carillons of the Tower of Our Lady in Amersfoort and the Town Hall in Leiden.
Souterliedekens
Psalm 43
Psalm 44
Psalm 83
Psalm 84