Joop Voorn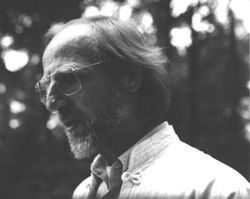 °1932
The Netherlands
Born 1932 at The Hague.
Boys Choir (Palestrina, Bruckner).
Piano lessons. From 1946 piano, organ and harmony with Jean Claessens in Weert.
1958-1960 in Rome counterpoint with Edgardo Carducci (Istituto Pontificio di Musica Sacra).
From 1966 Brabants Conservatory in Tilburg: composition and theory with Jan van Dijk, piano with Polo de Haas.
From 1969 teacher of music analysis and counterpoint at the Brabants Conservatory.
Compositions: works for orchestra and ensembles; chamber music; songs; rather much choir music, a cappella or with instrumental ensemble; folksong arrangements for choir.
Souterliedekens
Psalm 141
Psalm 142
Psalm 143
Psalm 144