Johan Sluys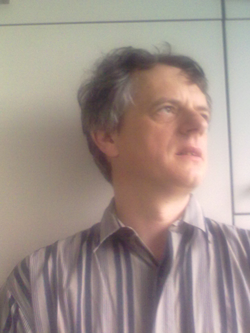 °1999
Belgium
www.muziekcentrum.be

Johan Sluys was born in Brussels in 1964, the son of the cathedral organist Jozef ridder Sluys.
Studies: He was awarded a master's degree in classical philology by the University of Leuven, with a thesis on Aristoxenos' Elementa Harmonica, and a master's degree in piano and chamber music by the Royal Brussels Conservatory and a master's degree in composition by the Conservatoire Royal de Mons (Cl. Ledoux). He was taught choral conducting (E. Van Nevel) and orchestral conduction (D. Gazon).
Career and performances: He taught Latin and aesthetics before being appointed to teach piano at Leuven's Municipal Music Conservatory. He has performed as a solo pianist, chamber musician and conductor.
Compositions include:
Choir: the motet "In het begin schiep de mens" won the Vlaams-Brabant Provincial Composition Prize. His "Requiem for a Child Soldier" (soloists, large choir and percussion) was written for the Flemish Radio Choir and performed in 2005 at the ISCM World Music Days by the Rilke Choir, and later again in Sweden.
Piano: "In Flanders Fields" and "Arpie" were performed by K. Mizumoto.
Strings: "Ciaccona" was the compulsory piece for the "Axion Classics" competition (Brussels).
Ensemble: "A-game" (fl, cl, 2vln, vla, vc, pno, perc), "Lumen de Lumine" (org, vln) and "Tourdion" (tensax, bsn, cello, euph, tmb), "Ik weet niet waar ik sterven zal" (ten, vc, pno) have spectral and microtonal characteristics.
Souterliedekens
Psalm 101
Psalm 102
Psalm 103