Hans Aerts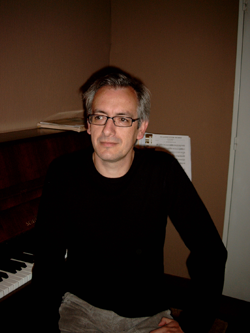 °1958
Belgium
www.matrix-new-music.be/aerts-hans

Hans Aerts (Balen °1958) started his music studies at the Music Academy in Mol. After obtaining governemental medals for clarinet and piano he went on studying at the Antwerp Conservatory, taking lessons from Walter Boeykens (clarinet), Mark Verhaegen (harmony) and August Verbesselt (analysis). He continued his studies in Brussels with Rafaël D'Haene (fugue) and at the Lemmens Institute in Leuven with Piet Swerts (composition).
As a composer he specializes in writing instrumental music in various combinations. Most important is the aim at clarity and an attractive melodious and harmonic way of writring. Some of his works have been rewarded. He was laureate of the Cantabile Composition Contest in 1993, 1995 and 2005.
In 1999 his song "Tranen", with lyrics from Guido Gezelle, was selected for a contest by the city of Roeselare.
In 1996 and 1997 he wrote contest pieces for harp and violin for the National Music Contest of the "Gemeentekrediet". The piano piece "Sentimental Waltz" was nominated in 2003 in the ISME-Composition contest. At the 2004 Axion Classic Contest, his "Concertino da camera" was the obligatory piece for the woodwinds. The choral piece "Avondgeluiden" (Paul Van Ostayen) was selected for the Nationale Koorcompositiewedstrijd.
Hans Aerts has been a music teacher since 1981, at this moment he teaches the clarinet and instrumental ensemble at the Music Academy in Turnhout.
Souterliedekens
Psalm 7